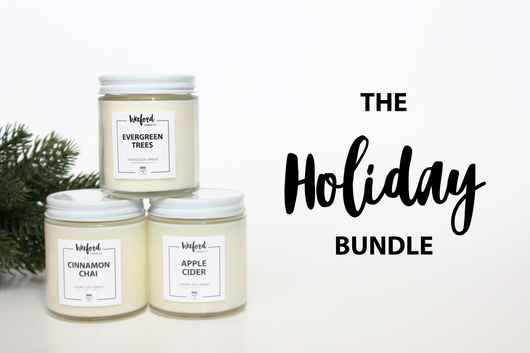 The Holiday Bundle
Regular price $28.00 Sale
Are you wanting to buy a gift for someone but don't know what scents to get? Our Holiday Bundle is perfect for you! These are our best selling fall and winter scented soy candles. 
Cinnamon Chai has hints of chai, cinnamon, and nutmeg with a strong base of vanilla.
Evergreen Trees smells like you just walked into the fragrant woods.
Apple Cider has notes of freshly picked apples, cinnamon, and nutmeg.
All natural soy wax
Cotton core wick
Phthalate free fragrance oils
Hand poured in small batches
Sustainable, renewable and biodegradable 
4 oz burns 30+ hours, 8 oz burns 50+ hours
Burning Instructions:
Please make sure to trim the wick to a little more than ¼ inch and burn the candle until the wax is fully melted to the edge of the jar, this will prevent tunneling and you will accomplish a longer burn time. After you finish burning your candle, it is best to wait 24 hours to burn it again.